Carmelita O. Lazar
My Testimony
I was born, raised, and finished my studies in the Philippines. December 1990 I accepted Christ as my Lord and Savior. Since then, I dedicated my life for the use of Godís kingdom. In 1993, I responded to Godís call for my first mission trip abroad. Together with a group of believers, we smuggled bibles to Communist China. Scared as I was while crossing the border to China, I was praying "Lord, into your hand I commit my spirit..." God is faithful, we were able to cross the border safely and deliver all the bibles.
I felt like the Lord was telling me to do more for Him. So in the succeeding years I found myself traveling to other Asian countries like Hong Kong, Macau, Vietnam and Myanmar (Burma) for short mission work. In the year 2000 I had the opportunity to do some ministry to the Filipino churches in San Jose, California. In that same year God opened the door for me to go to Australia. I volunteered with the Youth With a Mission (YWAM) to do an outreach work during the 2000 Sydney Olympics. During these times I was doing the work for the Lord while being in my secular job.
In 1998, I was led to quit my secular job to serve the Lord through the Christian & Missionary Alliance (which head offices is in Colorado Springs), serving as executive secretary to the Field Director, Philippine Mission. Then later on I worked with the Alliance Biblical Seminary.
In the third quarter of 2002 my mom died. Having been married with my Dad for forty-eight years, it was so hard for my dad to accept the loss of my mom. Our whole family (which is in the Philippines) decided that I should stay with my Dad for awhile while recovering from grief. So I came to America with no idea or specific plans on what to do (while here). I had always desired to achieve Godís purposes wherever I am. So I prayed that God would design my circumstances to lead me to the center of His will.
Then I heard that Hope Again (Los Angeles, CA) needed volunteers so I decided to apply. During the week of my interview with the Executive Director, my devotion in Deuteronomy 11:24, 30 "every place where you set your foot into will be yours..." "...these mountains are across the Jordan west of the road, towards the setting sun..." These words became very much alive to me, and became a rhema. Later on I realized that Hope Again is at West Sunset Boulevard. Was it a coincidence or a revelation knowledge?
I was first assigned as the assistant manager of a transition house called Lighthouse, a ministry of Hope Again for women who are recovering from drug addiction, alcoholism, domestic violence abuse, and sexual sin. My first few months in the Lighthouse were so full of struggles that I wanted to quit. I was adjusting to the culture, a far different one from my own. One day I found myself praying, "God, if it is by mistake that I am here, please remove me from this place." I wasnít aware that I was being prepared for greater responsibility - to become the Lighthouse manager. After six months I was asked if I would accept the position of the manager. I said, "accepting the position is not just a step of faith, but a big leap of faith for me; the responsibilities will be much heavier but I know my God is above all". When I was seeking His will regarding the new position, God confirmed His word to me again in Joshua 1:3-6, "I will give you every place where you set your foot..." "be strong and courageous because you will lead these people to inherit the land..."
I worked at the Lighthouse until January 2004. I am currently working for an adult day health care agency and will be seeking employment in Seattle, where I will also be ministering with Richard.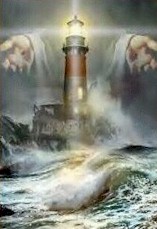 Jesus is our Lighthouse
in the midst of storms