HOW WE MET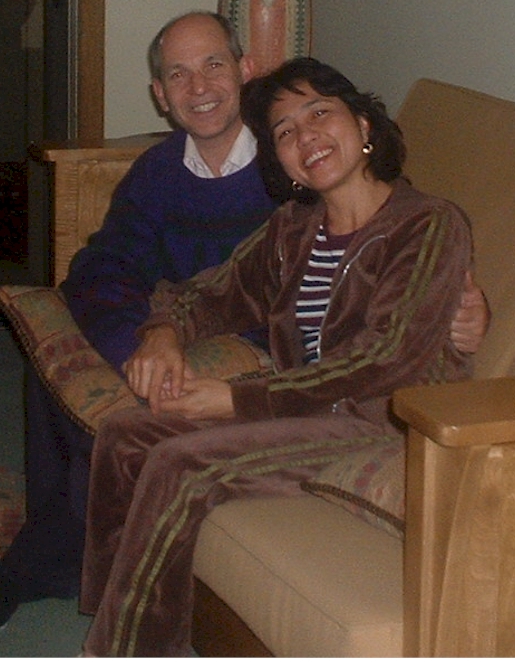 In early 2003 our ministry, The Hill for Jesus, was in need of more women volunteers. We also had a large event taking place in Capitol Hill. I was wondering how we could let Christian women in our area know about our ministry. I had a 'crazy idea'. What if I got on the Internet and found Christian women who live in the Capitol Hill area. I could post information about our ministry. We made it very clear that we were not looking for a 'date'. We were looking for ministry volunteers. To be very honest, all we found where postings of women who wanted to talk about themselves and marriage. None of them seemed interested in ministry.
I (Richard) began wondering if there was any Christian women who were more concerned about doing the things of God than just getting married. Out of the search I found a posting by Carmi. Throughout her posting she talked about Jesus, her relationship with God, and her ministry at Lighthouse (a ministry for women who are homeless, walking in sexual immorality, or addicts). I was shocked. "There was such a thing as a godly woman who loved ministry more than just getting married". I realized that Carmi was a house manager for Lighthouse in Los Angeles and was doing the very things that we desire to do here in Seattle.
I thought it would be good to talk to her about the ministry and gain some insight. I contacted her in July 2003. After talking with her, I was very impressed. I started having a desire to see if she would check out our ministry and maybe we could 'steal her' from the Lighthouse and she could minister here on Capitol Hill. She would be a great asset. I had no inclination about dating her or marriage. In fact, I made that very clear to her in our conversations.
As we spoke more on the phone, I realized that Carmi was becoming a good friend. She was a very godly woman who had a great personality. Carmi agreed to come here to Seattle during New Years. Everyone that met her said she was a wonderful woman. I believed she would be a good person to be on our ministry team. I saw Carmi as a sister in the Lord, not as a 'girlfriend'. While she was here we only had a few hours alone with each other (to and from the airport). When she got on the plane we both wished we had spent time together.
From New Years to now we have seen God work in our relationship. Over and over again we realized that there was more to our relationship than just being ministry workers. As our friendship matured, our love matured. Unlike most couples, we did not date. Instead we developed a healthy friendship that became a godly intimate relationship that has developed into the desire to spend our lives together as husband and wife.
Instead of pursuing a love relationship, we pursued God together, and He brought the romance into our relationship. Instead of pursuing a physical relationship, we pursued a friendship and now we want to experience the blessings of having an intimate relationship and spend our life together serving Jesus Christ.
Read our personal testimonies.